Clickable photos open hi-res in a new window.

Here are three photos of Guitar 4. Nick says it's the most versatile guitar he has ever played.

It's built on a shiny new Jay Turser JT-50, a black SG style body. The two naked humbucker pickups are a Golden Age pair from Stewart-McDonald, and they are wired "coil-tapped", so they can be used as either series or parallel humbuckers or single-coil. Bridge 9.0Kohms, neck 8.0Kohms, Alnico 5 magnets, AWG42 coil wire, wax-potted coils.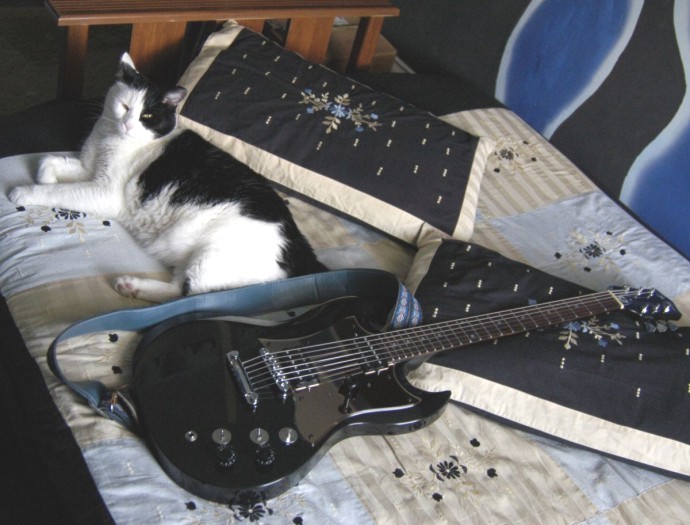 The toggle switch closest to the pickguard switches the volector joystick circuit between same polarity "in-phase" and opposite polarity "out-of-phase" wiring between the pickups. The other two switches are on-on-on toggles, and they switch the individual pickups between coils in series (regular humbucker full sound), coil tap (sharper screw coil only sound), and parallel circuit, which sounds kind of intermediate between the two. The two black knobs are regular tone controls for the individual pickups.

The pickguard is gold or champagne colored mirrored acrylic, custom cut for this guitar by Kate, and edge polished by Janis. Guitar 4 also of course wears the Volector badge on the truss rod cover.

Guitar 4 was the second volector guitar offered for sale. Its package included a 20ft right-angle-plug dual-signal cable with twin 2ft cable tails, and a hard case. [SOLD].